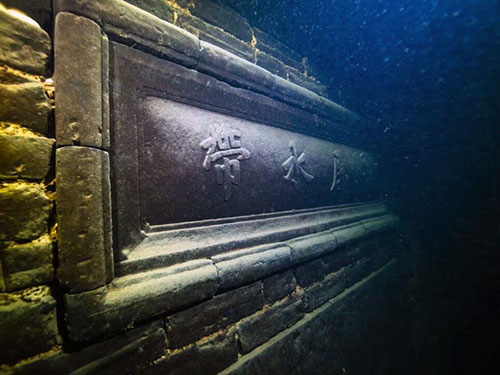 Qiandao Lake lies in Zhejiang Province which is about 400km away from Shanghai. The lake covers 573 sq. Km and there are 1078 islands in the lake region.
From April to October is the best season for vacation. The beautiful scene of the lake and great food will leave you a fantastic memory.
The ancient villages of the Ming Dynasty that originated over 600 years ago. The underwater village here has a typical local architectural style and is relatively well preserved. The overdoor, the beam and the pillar have all been beautifully carved, and the structure of the houses are clear at a glance. In addition to some of the homes that have been found, we will also take you to explore the unknown areas and perhaps find some new and unexpected discoveries.
Diving at the ancient village in Qiandao Lake is available all year around, but the best time to dive the site is November to May. The information below is for your reference.
Dec - Mar
Apr - Jun
Jul - Sep
Oct - Nov
Water Temp.
(Surface - Bottom)
18-12c
20-11c
30-12c
22-13c
Recommended Suit
Dry Suit
Semi-dry or Dry
Semi-dry or Dry
Semi-dry or Dry
Visibility
4-8m
4-8m
1-3m
2-5m
Depth
(roof - bottom)
22-30m
22-30m
28-36m
24-32m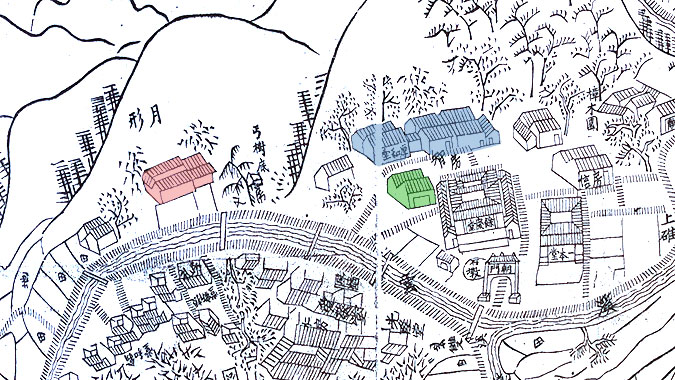 * Click dive flag for site information.
Dive Packages
Farmhouse is close to the dive site of the underwater village.
- Check Dive and Explore the Ancient Village

08:30 - Pick up at the hotel and transport to the dive site of the underwater village.

09:30 - Check dive in the lagoon *

12:00 - Lunch

13:30 - House of Zhi and Hall of Houhe in the ancient village

15:30 - Ancestral Hall in the ancient village

17:00 - Transport to the hotel

- Explore the Ancient Village

08:00 - Pick up at the hotel and transport to the dive site of the underwater village.

09:00 - Dive the grand house in the ancient village

11:00 - The ancient village explorational dive

12:00 - Back to the farmhouse resort, take a shower and pack up.

12:30 - Lunch

13:30 - Transport to the hotel or Qiandao Lake train station.

* For safety concern, all divers are required to complete the skills below in their check dive:
1. Fin pivot (neutral buoyancy skill)
2. Hover
3. Stop at the predetermined depth and hover
4. Alternate air source breathing when hovering
Please note that the divers who do not display ample buoyancy control or skills mastery will not be allowed to dive the ancient village for safety reasons. They need to practice the buoyancy skills with our instructor in the lagoon in subsequent dives till they meet the performance requirement.
Diver: 2,880 CNY Per Person
Non-diver: 980 CNY Per Person
Cost Included
Travel Insurance
Transfer between local hotel to the dive sites
Lunches on diving days
5 dives altogether
Tanks, weights and divemaster services
Cost Excluded
Transfer between Shanghai and Qiandao Lake
Accommodation and meals
Equipment
Soft drinks and beer
Anything not listed in the costs included
Other Cost
Mask: 30 CNY
Fins: 50 CNY
BCD: 60 CNY
Regulator: 80 CNY
Dual 5mm Wetsuit with Hood(10mm): 100 CNY
Underwater Light: 100 CNY
Full Set Equipment (exclude dive computer and gloves): 400 CNY
Semi-dry Suit: 200 CNY
Dive Computer: 100 CNY
You'll need your Passport, Dive Certification and Toiletries.
The water temperature on the bottom is around 12 - 16C. A dry suit, or semi-dry diving suit, or 5mm dual pieces wetsuit is recommended. Hood and gloves are necessary too.
An Underwater Flashlight is a necessary piece of equipment to dive the underwater ancient village.
NO SPEAR FISHING.
You will be responsible to follow Safe Diving Practices and dive within your limits.
We recommend that you wait a minimum of 18 hours and sometimes up to 24 hours after diving before you fly.
Big Blue has a do not touch and no recovery rule to preserve and protect the site. Failure to follow this rule will result in the rest of your diving being forfeited.
Please email or call 7 days before the trip to check availability.
If you need a reservation or have any questions, please contact us by sending an email to info@big-blue.cn or call +86(0)138-0162-6277.