Put on the gear and slowly submerge yourself to take your first breaths in the exciting underwater world!
Big Blue Trial Diving is designed for people that are interested in scuba diving, but would like to experience the sensation of diving before making the decision to enroll into the full Open Water training course.
In this Trial Diving program, youll experience the same feeling of weightlessness that all divers experience under the guidance of a trained professional. It is a great activity to try with your friends and family, as diving is a sport best done with a buddy.
Can I participate diving courses?
If you got 'YES' to any question, you need to consult with a physician prior to participating in scuba diving courses.
Could you be pregnant, or are you attempting to become pregnant?
Are you presently taking prescription medications? (with the exception of birth control or anti-malarial)
Are you over 45 years of age and can answer YES to one or more of the following?
- currently smoke a pipe, cigars or cigarettes
- have a high cholesterol level
- have a family history of heart attack or stroke
- are currently receiving medical care
- high blood pressure
- diabetes mellitus, even if controlled by diet alone
Asthma, or wheezing with breathing, or wheezing with exercise?
Frequent or severe attacks of hayfever or allergy?
Frequent colds, sinusitis or bronchitis?
Any form of lung disease?
Pneumothorax (collapsed lung)?
Other chest disease or chest surgery?
Behavioral health, mental or psychological problems (Panic attack, fear of closed or open spaces)?
Epilepsy, seizures, convulsions or take medications to prevent them?
Recurring complicated migraine headaches or take medications to prevent them?
Blackouts or fainting (full/partial loss of consciousness)?
Frequent or severe suffering from motion sickness (seasick, carsick, etc.)?
Dysentery or dehydration requiring medical intervention?
Any dive accidents or decompression sickness?
Inability to perform moderate exercise (example: walk 1.6 km/one mile within 12 mins.)?
Head injury with loss of consciousness in the past five years?
Recurrent back problems?
Back or spinal surgery?
Diabetes?
Back, arm or leg problems following surgery, injury or fracture?
High blood pressure or take medicine to control blood pressure?
Heart disease?
Heart attack?
Angina, heart surgery or blood vessel surgery?
Sinus surgery?
Ear disease or surgery, hearing loss or problems with balance?
Recurrent ear problems?
Bleeding or other blood disorders?
Hernia?
Ulcers or ulcer surgery?
A colostomy or ileostomy?
Recreational drug use or treatment for, or alcoholism in the past five years?
Anyone from 10 years old and in good physical condition (Health Quick Check) may enroll in a Big Blue Trial Dive.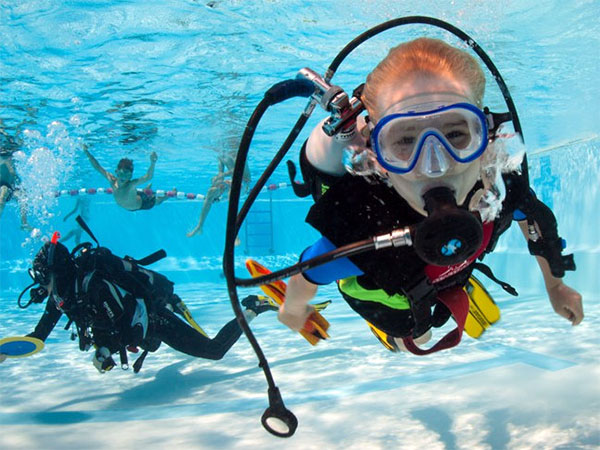 We use a hands-on approach to introduce you to the basic SCUBA equipment, helping you to feel comfortable with the safety functions and benefits of modern diving equipment.
Finally, you'll be ready to swim around with your trained instructor and enjoy some fun and games!
One session lasts approximately 2-2.5 hours
Big Blue Trial Diving: 680CNY per person
- Includes: diving equipment, training facility and instructor fees.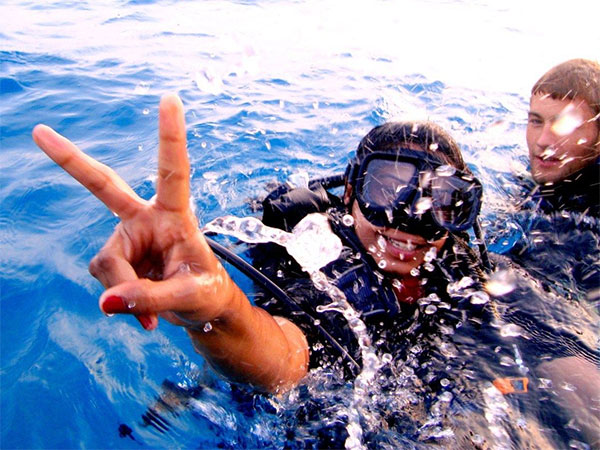 Receive a discount if you meet any of the following criteria:
Come as a group of 2 to 3 and receive a 5% discount.
Come as a group of 4 or more and receive a 10% discount.
Receive a 300CNY discount on the PADI Open Water Diver certification course if you sign up within 7 days of completing the Big Blue Trial Dive.
Just a swimsuit and towel!
Method 1: Make a phone call to reserve the date of your Big Blue Trial Dive. You can pay online with Alipay or Wechat.(021)6291-2110
Method 2: Click the 'Sign Up' button below, enter your information and questions and we'll contact you by email or phone as soon as possible.
Can I participate in Trial Dive if I can't swim?
Yes, you can! As long as you feel relaxed and comfortable in the water you're sure to have fun in this program.
Is the equipment provided in the trial diving?
We provide everything you'll need to take your first breaths underwater. All you need to bring is a swimsuit and towel.
When can I do my trial dives?
Big Blue is open 7 days a week, so you can schedule your trial dives whenever you have the time. Please make a reservation by phone or email at least 2 days prior to when you would like to dive.
What's the ratio of the instructor and students?
The maximum ratio of the instructor and students is 1:4.
Is it possible to have a 1:1 class?
Sure. If you'd like to have a 1:1 class, a 200CNY extra is required.